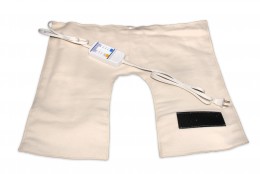 digital switch

Moist Heating Pads
The THERMOTECH Automatic Moist heating pad captures moisture from the skin and humidity in the air and retains it in the hot pack's outer flannel cover. In as little as 5 minutes after placing the THERMOTECH on the body and turning the unit on, therapeutic moist heat is produced to provide soothing and comforting pain relief. As a safety feature, the analog unit will not work unless the switch is held ON.
With the THERMOTECH analog unit, one simply holds the switch "on" in order for the heat to come on, and let go of the switch to turn the heat "off".
The digital unit has a treatment timer which turns the unit off automatically after the selected treatment time is completed.

For the best and most effective treatment, alternate periods of heat-up and cool-down to increase circulation to the area.
Available with analog or digital hand controls
Moist heat therapy without the complicated setup or the mess
Ideal for treatment of back, abdomen, neck, shoulder, chest, etc.
Helps relieve pains of inflamed joints caused by arthritis and rheumatism
No water needed; captures moisture from the skin and humidity in the air
Heating coils are stitched into material to provide maximum dispersion of heat and prevent "hot spots"
Far-infrared thermal technology
All pads/packs include flannel cover.
3-year warranty for analog moist heating pad
1-year warranty for digital moist heating pad
S766

Thermotech® Analog Moist Heatpad - Large 14" x 26"
1 each

S767

Thermotech® Analog Moist Heatpad - Standard 14" x 18"
1 each

S768

Thermotech® Analog Moist Heatpad - Petite 7" x 19"
1 each

S766D

Thermotech® Digital Moist Heatpad - Large 14" x 26"
1 each

S767D

Thermotech® Digital Moist Heatpad - Standard 14" x 18"
1 each

S768D

Thermotech® Digital Moist Heatpad - Petite 7" x 19"
1 each

S769D

Thermotech® Digital Moist Heatpad - Neck/Shoulder
18" x 19"
1 each